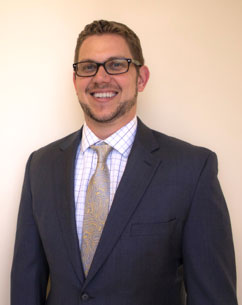 M.Ed. in Earth Sciences at Penn State's World Campus Student Profile: Mark Newton
Year graduated: 2010
Hometown: Fredonia, NY
Profession: Assistant Professor of Environmental Science Education at California State University, Chico
Why did you decide to get your masters and why with the M.Ed. in Earth Sciences program at Penn State's World Campus?

I had minored in geosciences during my time as an undergrad and was seeking to gain more knowledge in Earth Science education. First, Penn State's reputation was a major factor in selecting the program; I was aware of the College of Mineral and Earth Science's influence in the field and wanted to work with professors who were actively researching. Second, I was living in Florida and the Penn State World Campus allowed me to stay with my family and teach full-time, while also being a full-time student.

How has this degree impacted your career?

Earning my M.Ed. has allowed me to continue my education as a Ph.D. candidate in Science Education with a research interest in the relationship between socioscientific issues, environmental education, and citizenship. Furthermore, I have now been able to teach at the university level. This experience has been highlighted by working with a program that takes undergraduates to the Greater Yellowstone Ecosystem (GYE) to examine contentious environmental issues. As a result, I have been able to complete my dissertation on environmental issues in the GYE.

What was a highlight or opportunity from the program for you?

I was able to present research done with Eliza Richardson in a poster "Searching for earthquake swarms and aseismic deformation in the Western U.S" at the annual American Geophysics Union Fall Meeting in December 2010.

What advice can you give students considering this program?

Treat your online classes as if they were traditional classes. Schedule "class time" in your calendar as if you had to physically attend. This way it is on your schedule and you are not pushing off the responsibilities. Likewise, your family will know when you are "in class" and can respect your time.

What do you like to do in your free time?

I enjoy going to the gym and being outdoors. I am an avid baseball fan and take every opportunity to go to as many games as possible.